I've been doing a test in one of the lower shapes of the lanterns, just to decide how I'm going to work on those blacks, hmmmmmm, after finishing with it I have more doubts, here's a step by step
1, 2 & 3.-
Masked the shape and added some blue and red as a richer base, it dried lighter as often and mute but the variation was there.
4, 5.-
The first layer of black/blue black/red added and dried, I wanted to keep some of the shape of the paper of the lantern and play with textures and edges.
6.-
Sprayed some very diluted blue and red acrylic paints which was the main reason to mask around the print in the first place, the mixes of black run a bit, enough to make me loose the contrast and edges when it dried as seen in step
7
.
8, 9.-
Plan B, if spraying the acrylic don't work maybe applying the back mixed with blue and with red acrylic paint instead of watercolor would work, waited for it to dry and removed the masking. It doesn't show as much of the underpainting as I wanted at first but it's a corner so I don't mind not having it as interesting in there as in other areas of the image.
10.-
The main reason of trying the spray and acrylic was to avoid the bleeding of lamp black which seem to love running around, yet I put a brushtroke over it and it still bled a bit, not to much but it's a concern,
11 and 12
are the acrylic palette and the watercolor palette, I think I mixed enough acrylic paint to make the black permanent.
So what's gone wrong? maybe the sprayed acrylic was too diluted and didn't work and what's bleeding is the color from some areas that can have remained uncovered when I applied the color in the last steps?
Right now I have 2 choices, to paint the lanterns' paper first or the symbols first, I was decided to paint the symbols first and once fixated to paint all the rest, but if those blacks still bleed I'll have problems, in the other hand I could finish all the white of the lanterns first and then the symbols but then I wouldn't be able to use the masking fluid 'cos it's already lifting the colors of the subtle washes, hmmmmmm, gotta ponder a bit more about it.
The good thing is that I'm liking the kind of variation that I'll be able to get in those black shapes and still have them black which was one of my goals for this one
Here's a gif of the step by step, just because: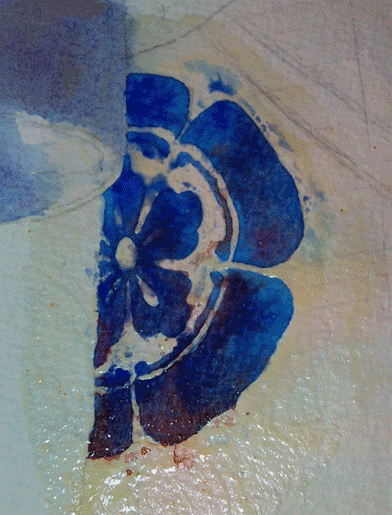 Links to the whole of the WIP:
step 1
,
step 2
,
step 3
,
step 4
,
step 5
,
step 6
,
step 7
,
step 8
,
step 9
,
step 10
,
step 11
,
step 12
,
step 13
,
step 14