It's almost that time of year again, so if you're thinking about sending some cards to your people this Christmas you might like these.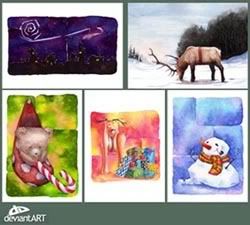 If you'd like to purchase them in units or having a pack but with assorted models you'll probably prefer
Zazzel.com
or
Zazzle.co.uk
, you can also personalize them there changing whatever you want, adding or removing stuff.
If you're bound to buy sets of 10 or 25
Deviant Art
is offering a retail sale due to Black Friday, that means a
20% discount!
Click on the images or the links to go to the stores, hope you enjoy your goodies!